No Hassle Website 2.0 is here for ONLY $99
The ONLY ready-made website that already has EVERYTHING an entrepreneur like yourself needs: a beautiful,  professional, flawless, fully customizable, sales-driven, service-based site, with built-in pages, opt-ins, shop, landing page, thank-you page, SEO and even Facebook tracking pixels!
Just plug in your info & images and you are done. REALLY.
The perfect COMBINATION of a DIY & a Designer Website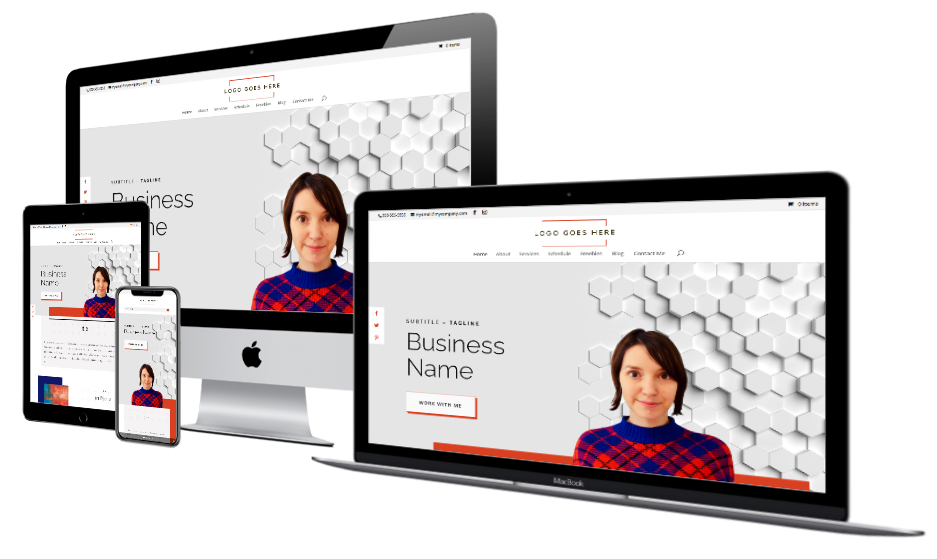 Things you WON'T have to do if you buy the No Hassle Website 2.0:
Worry about building a professional website
Waste time & money attempting to figure out how to create your dream website
Learn how to build a website from scratch
Pull your hair out trying to "connect all the dots"
Contemplate shooting yourself trying to install the Facebook pixel correctly on the right pages
Scream at your monitor out of frustration
Design the structure/layout of your website
Install your website on your hosting service
Things you WILL have to do if you buy the No Hassle Website 2.0:
Follow the easy instructions on how to connect your existing accounts & services to your website (for example, your mail service, Facebook page, Paypal account, Facebook pixel ID etc.)
Plug in your own text, images and content into all the pre-designed pages that are already built in to your No Hassle Website (Home page, About Me, Blog, etc.)
A Complete WordPress Website
Everything you need in a website, from A to Z, is already included, all built on WordPress with the Divi theme: one of the smartest and most flexible themes in the world
Pre-Designed Pages
Just plug in your text & images to the following pre-built pages: Home, About Me, Services, Book Services, Schedule, Freebies, & Contact Me
Shop
Sell anything from your website – physical, digital or service – with this slick WooCommerce Shop that comes with your website
5 Different Color Schemes
Choose one of 5 different pre-designed color schemes for your website (or customize and use your own brand colors!)
Step-by-Step Video Tutorials
Designed for even the most non-techie that will walk you through everything you need to know to create your beautiful website
Built-in Opt-in Forms
Grow your mailing list directly from your website with these pre-designed opt-in forms that connect to your mail service automatically
Terms of Service & Privacy
Ready-made Terms of Service & Privacy Policy pages: just plug in your business information and you are set!
Free Hosting & SSL
Don't have a hosting service? Want to switch? Your No Hassle Website 2.0 comes with 6 months of hosting absolutely free (and only $9/month after that) + FREE SSL Certificate!
Free Installation
Installation on your hosting or ours, is free, you don't have to do anything
Social Media
Social media sharing buttons pre-installed on all pages and posts
Landing Page that Converts
Offer your irresistible freebies to attract new customers and grow your mailing list with a beautiful customizable landing page. Ideal when promoting your freebies & webinars with Facebook Ads etc.
Thank You Page & FB Pixel
Built-in Thank You Page for your Landing Page that already include your Facebook pixel to track the conversion and performance of your Facebook ads
SEO & Google Analytics
Improve your search engine rankings and analyze your traffic sources with built-in Search Engine Optimization & Google Analytics plug-ins
+ FREE Closed Facebook Group Membership
FREE access to our closed Facebook Group where you can get technical help, inspire and get inspired by other like-minded entrepreneurs, and get unique and exclusive new training regularly (on subject such as branding and marketing, Facebook Ads, how do webinars to grow your business etc.)
It Saves Money
Your No Hassle Website 2.0 will cost you only $99, compared to anywhere between $1000-$5000 if you hire a web designer to do it for you
It Empowers
By creating your No Hassle Website 2.0 on budget, on your own, within a few days, you will feel empowered and your website will look like a million bucks! It will boost your confidence online and offline and will make you feel proud and accomplished, just as you should feel
It Saves Time
You can have your No Hassle Website 2.0 ready in a matter of days, not weeks or months. Imagine: this time next week, your completed, beautiful, professional, flawless website can be up and running!
It Reduces Stress
No more worrying about how to bring your website to life, no more anxiety and sleepless nights, no more stressing about how not having a website is holding you and your business back!
It's Simple
The No Hassle Website 2.0 was built with the non-techy entrepreneur in mind. Nothing is too complicated and you don't need to learn any code – just follow the detailed and straightforward instructions and voilà! Your beautiful website will come to life
It's Complete
We thought of everything so you don't have to! We tied all the loose ends, connected all the dots, put all the pieces together – to create the most holistic "website in a box" on the market
More Info & Answers to Your Lingering Questions