The Doors to Ready for Success Close Shut in: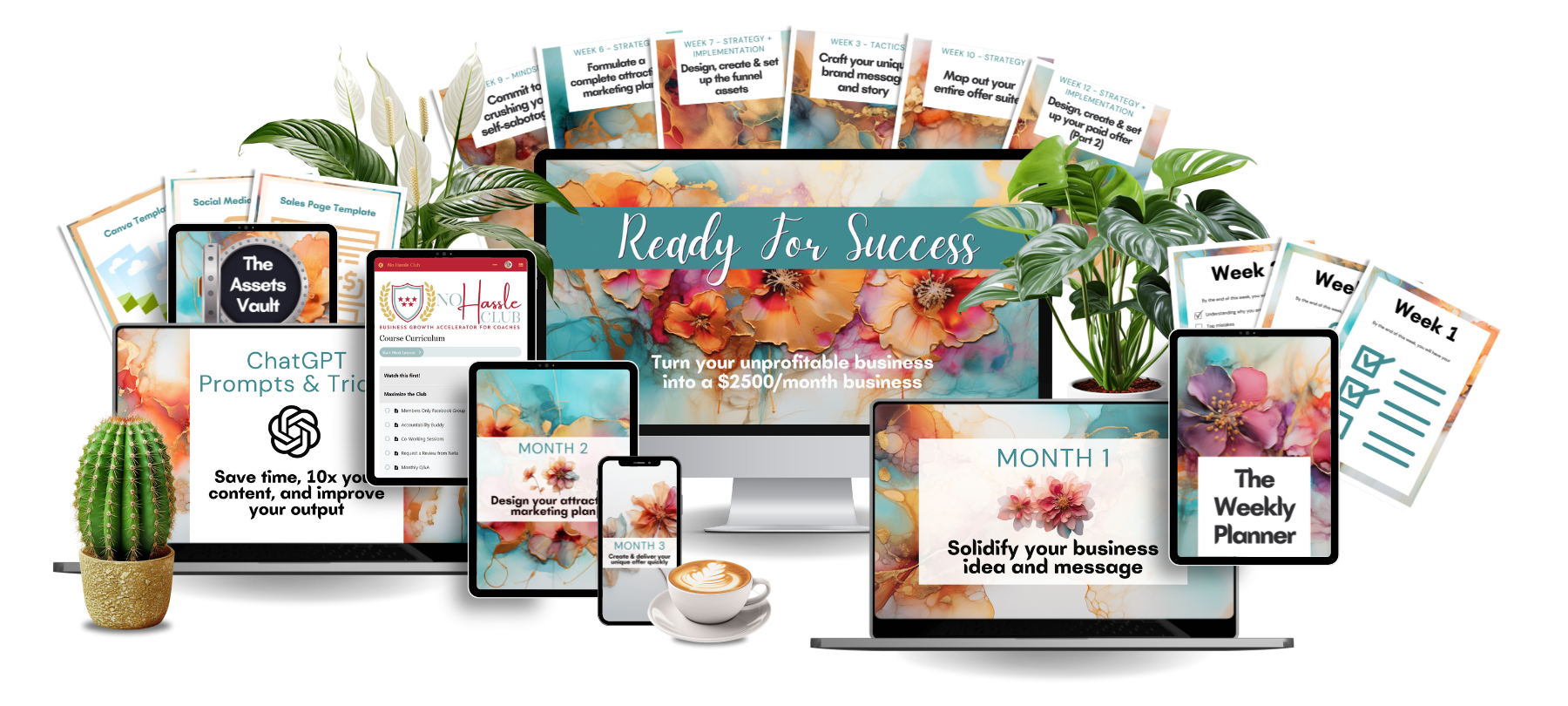 Turn your unprofitable business into a $2500/month business
Stop feeling your business is a money-pit hobby that drains all your resources and brings you only negative ROI
Instead, learn how to finally take your ideas and passion and turn them into a viable money-generating business by following the Trifecta Process™ (Strategy + Tactics + Implementation) to quickly create and sell desired offers that you love and feel comfortable selling, and that your clients want to buy, while putting into place the infrastructure to bring in more clients and higher income.
...not having a "real" business
despite working so hard in & on your business
...doing ALL the things for months and possibly years
and still never hitting your first income milestone
Now you are looking for CLARITY to finally make a livable income from a business you're proud of
You want to help others with your transformative offers and sell without constant struggle so…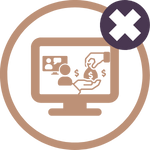 You signed up for multiple expensive programs and courses
BUT you realized that they were either too basic or too complicated for where you were, and that at the end, you were left with either overwhelm or yet another incomplete program that made you feel even less confident of ever making it.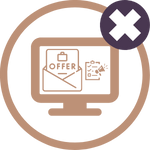 That's why you have been working on creating your offers and courses
BUT you often find yourself sitting on your ideas for months, or making some progress but never actually getting to the finish line of launching and putting your offer out there.
Plus: You fear you will launch to the sound of crickets and that no one will buy.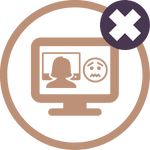 You may have even considered approaches that aren't aligned with your values & personality
BUT you discovered quickly that there is a difference between getting out of your comfort zone (which is good), and doing things that make you feel yucky (not good). Plus: What works for established figures, doesn't work when you have no audience yet.
Here's a question for you:
What if you could stop spinning your wheels and instead,

leverage your unique personal experience

to quickly create and sell aligned offers that you love selling and that generate a

4-figure monthly salary

and

organically bring you more clients to grow even more?
I know, it sounds too good to be true,
but stay with me here and I'll show you exactly how!
I started my business in March 2016 with ZERO audience and a single $99 offer and ended up making USD $19,994 by the end of that year.
In the last full financial year (2022) my sales totaled USD $244,655 (in Paypal) and USD $122,382 (in Stripe) through my various offers and services.
I get paid EVERY SINGLE DAY.
Automatically.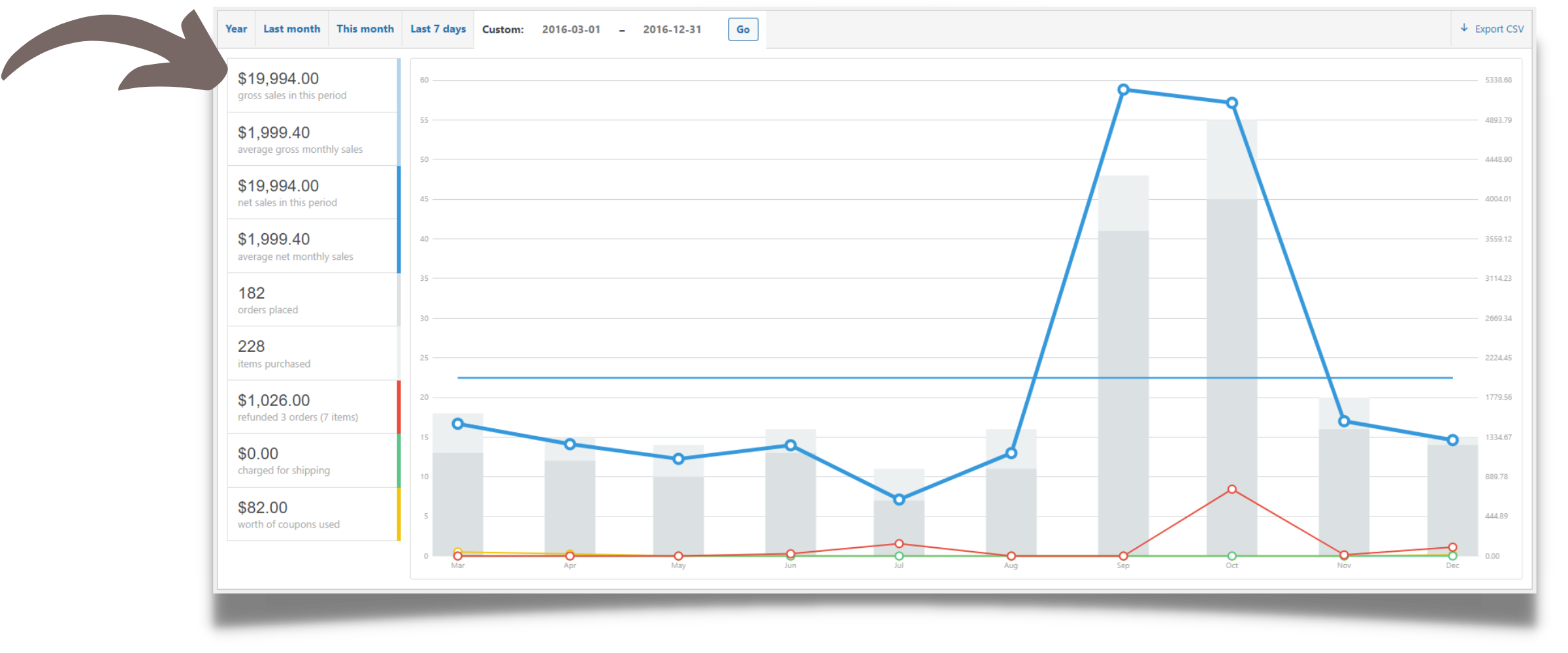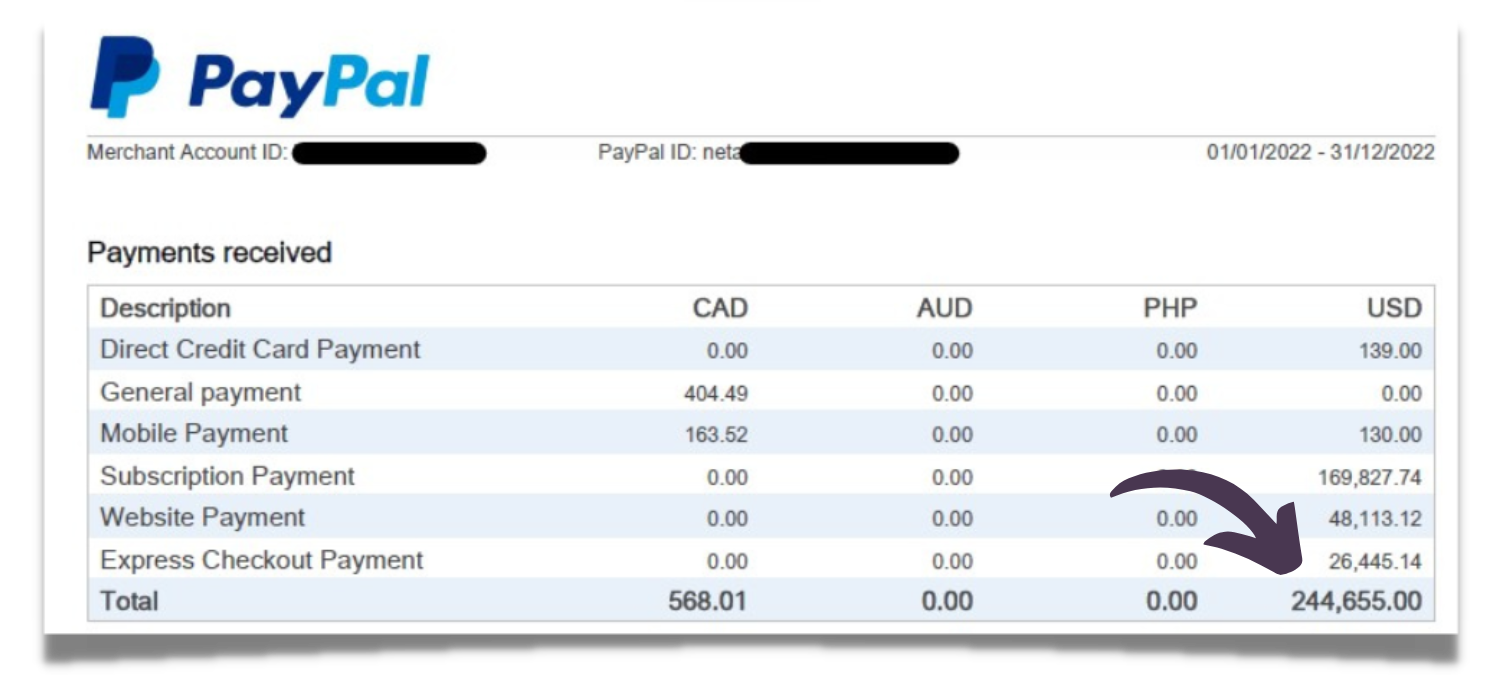 Getting to this point wasn't easy or a straight line
I started my entrepreneurial journey at the age of 16 and I have been an entrepreneur ever since (that's 30 years baby!). I never had a paycheck (until just a few years ago when I started paying myself a nice salary from my own company), I basically never had a boss and pretty much never worked for anyone else.
Over the years I built about a dozen businesses – a cloth diapers brand, a boutique hotel in the middle of the jungle in Costa Rica, and an online custom wedding dresses company, to name just a few!
I had superior products, amazing customer service, I met and worked with fascinating people, and I had raving fans.
But there was one problem
NONE of my businesses were ever financially profitable.😭
I had no money and our debt was growing every day and with every new business.
I was never in a position to take a salary, and I would have been better off money-wise in any minimum-wage job because I was losing money in my own businesses.
😔 I WORKED SOOO HARD AND HAD NOTHING TO SHOW FOR IT. 😔
❌If I was lucky enough to be profitable, it was never sustainable and only lasted for a very short time.❌
I was so deep in the red, and have failed so many times already, that getting a real "job" seemed like the only logical solution at that point. 🥺
But I couldn't bring myself to do it 😉 So I tried…
All kinds of online businesses like FBA (amazon) - but those required inventory and ad spend I didn't have
Helping local business owners in our town with SEO and FB ads - but they had no patience or budget for it
Implementing super creative and original marketing strategies to promote my existing business at the time (the cloth diapers brand) - but that ended up just delaying the inevitable which was closing the business
I knew in my heart:
There must be a smarter and more effective "recipe" to build a viable business than everything I was doing all those years!
And that's when it hit me (while talking to my husband in the kitchen…):
A simple, smart, non-physical product, that is IN DEMAND and that I can create and deliver QUICKLY for an IRRESISTIBLE price would be THE perfect business for me (finally!)
This is how my No Hassle

Website

business started. And this time, after 20+ years of entrepreneurship, I was finally starting to see the results I'd been dreaming about for so long:
People buy my products every day, at all hours, without me ever interacting with them
1300+ of my clients are enrolled in at least one of my recurring/membership offers
Most new clients from the last 4 years, were referred to me by an existing client
I have been able to pay myself and my husband a very comfortable salary
For the first time in my adult life and as an entrepreneur, I have a business I LOVE 💖 that steadily and sustainably provides an income to my family
(which allowed us to move to a new city, travel, invest in real estate, enjoy our time together even more, and NOT worry about the mortgage 🥰).

I now also have an amazing team that supports me and the business so I have more time to focus on my favorite parts of the business and spend quality time with my family.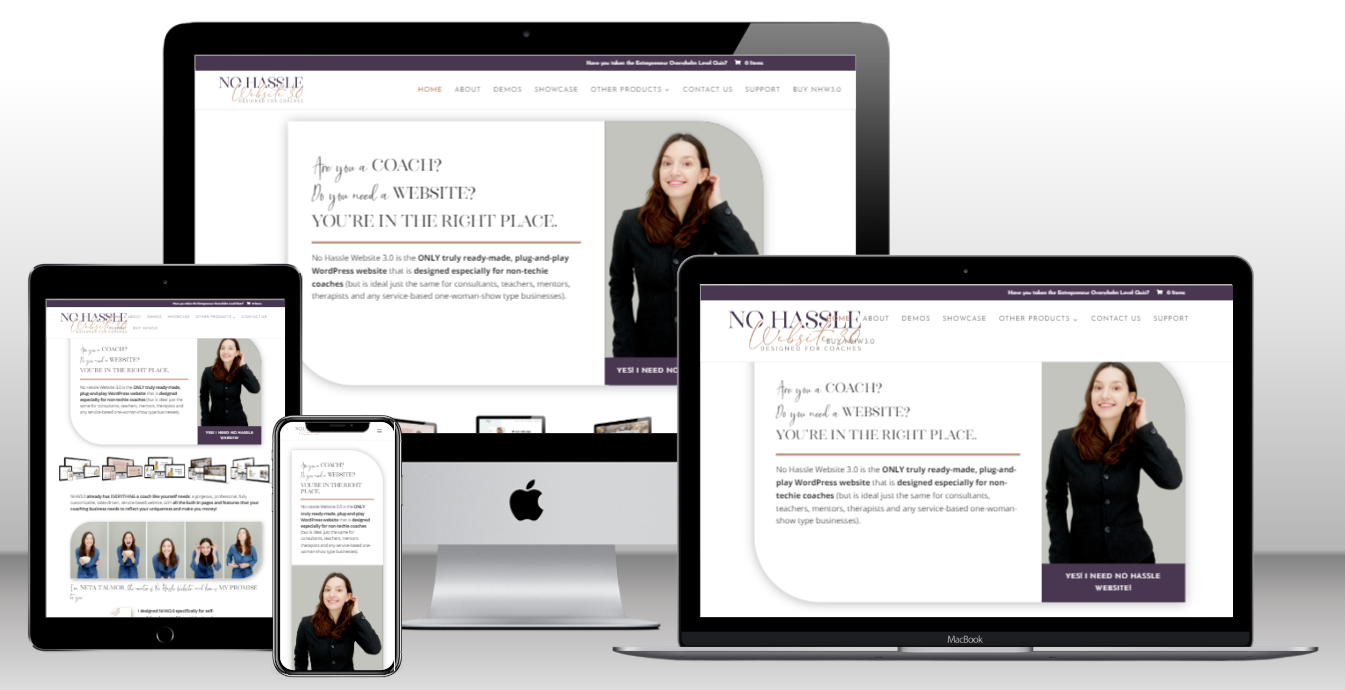 So how does it work exactly?
It takes work! But at the end it boils down to
To solidify your business idea, design a marketing plan, and launch your unique offer quickly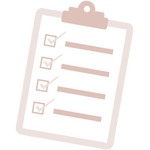 Solidify your business idea and message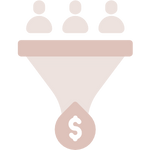 Design your attraction marketing plan
Create & deliver your unique offer quickly
Can this really work? It sure can!
I came up with of my idea in
mid Feb.

2016,

launched in Mar.

2016,

sold my first product on Mar. 17

and

made

$3160

in the first 60 days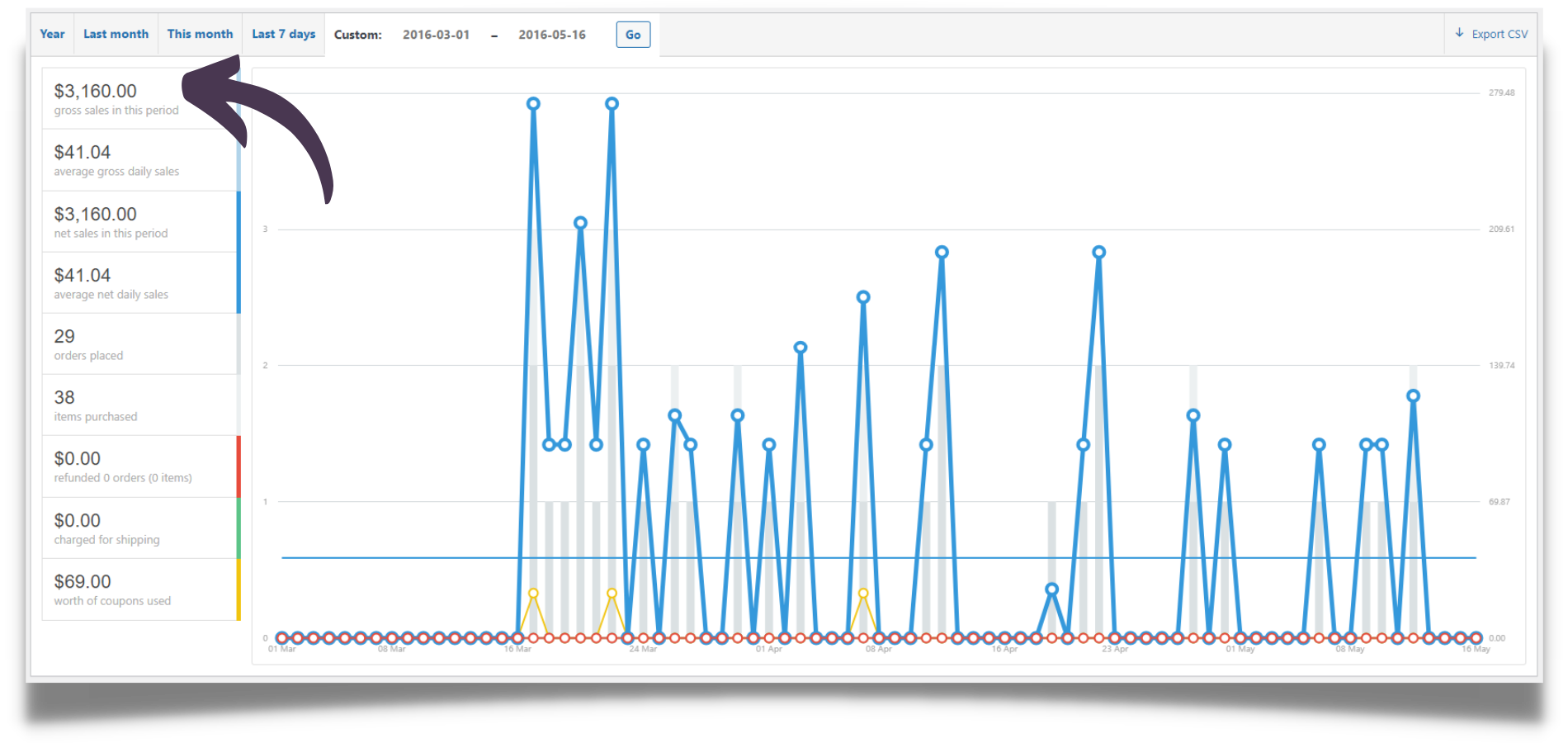 The first 3-month group coaching program for coaches and service-based entrepreneurs who want to turn their existing unprofitable (yet!) business into a $2500/month business, by creating an offer they love to sell, setting up all the foundations of a money-making business, and implementing an attraction marketing funnel that will bring in a consistent stream of clients to sustainably grow even more.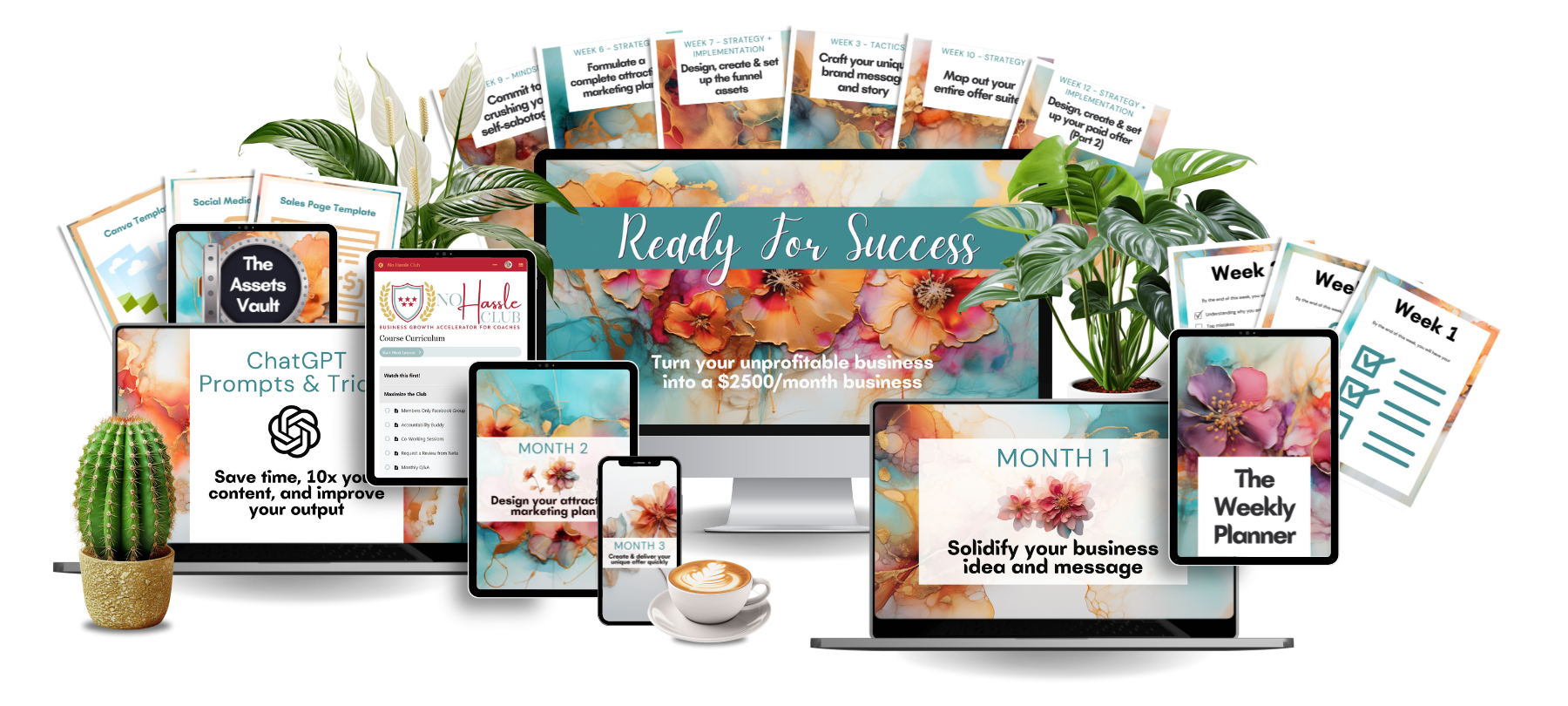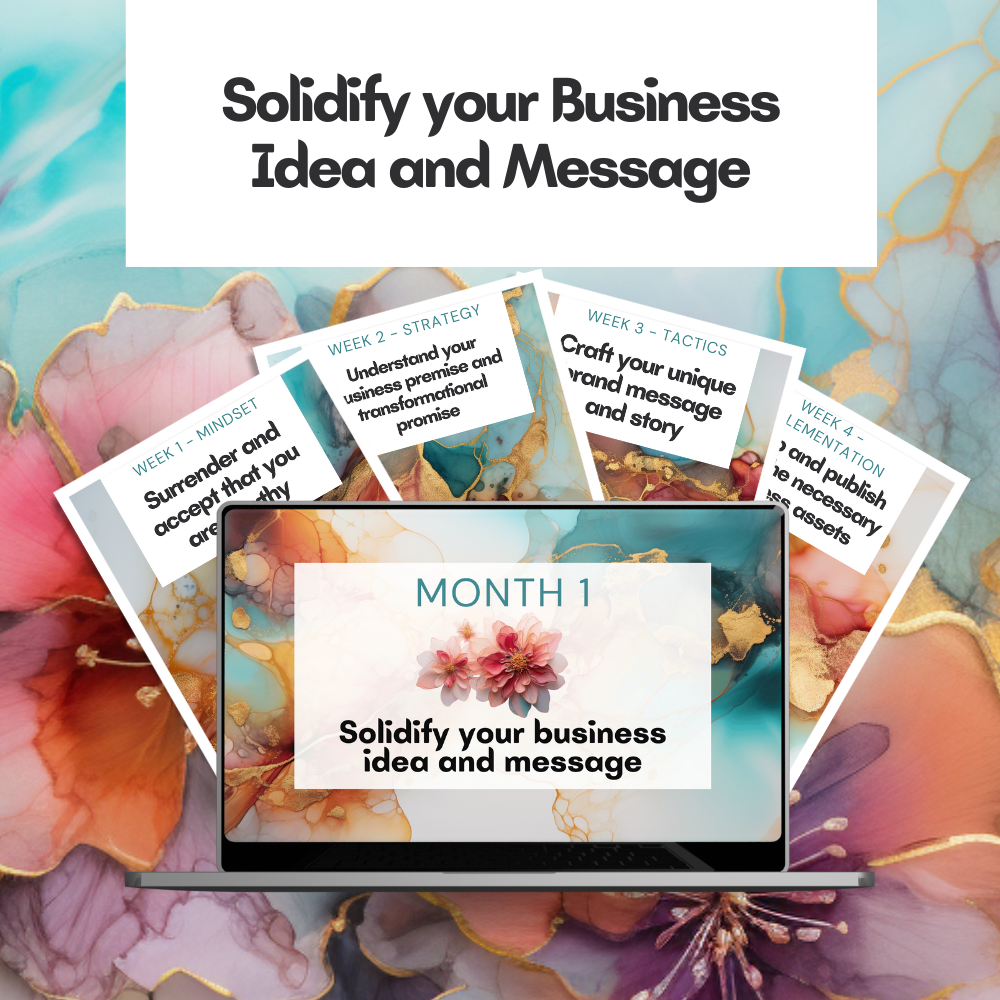 What you'll get to Make it happen:
A live weekly Lesson, broken down into clear, step-by-step actionable tasks
A weekly Inspo & Motivation Session with Rebecca to keep you on track
Worksheets to easily walk you through each week's assignments
Templates, Examples and Prompts to save you time
Implementation Sessions so you have no excuse 😊 but to do the work
Week 1 (Mindset): Surrender and accept that you are worthy
…so that you do not become the obstacle to all that you desire
Week 2 (Strategy):

Understand your business premise and transformational promise
…so that you know exactly how to leverage your passion, experience and expertise and turn them into a viable business that generates a predictable income
Week 3 (Tactics):

Craft your unique brand message and story
…using your own story, language and values, so that it aligns beautifully with what's important to you and you feel comfortable and authentic sharing it
Week 4 (Implementation):

Set up and Publish (only) the necessary business assets
…with your new transformational promise and brand message, so that you have the basic tech in place without letting it overwhelm or stagnate your progress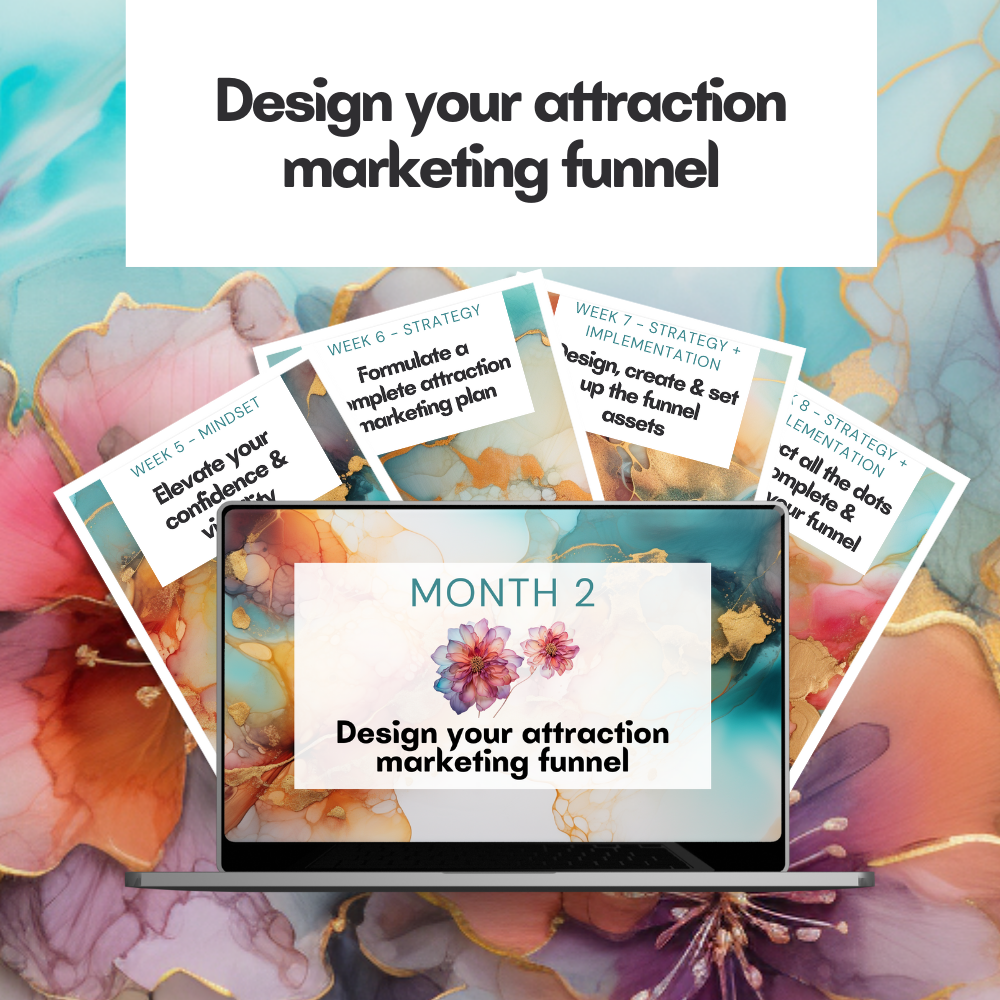 What you'll get to Make it happen:
A live weekly Lesson, broken down into clear, step-by-step actionable tasks
A weekly Q&A Session with Neta to address any challenges
A weekly Inspo & Motivation Session with Rebecca to keep you on track
A proven, easy-to-set-up Funnel Structure
Templates, Examples and Prompts to save you time and headache
Implementation Sessions so you don't get stuck 😊
Week 5 (Mindset):

Elevate your confidence & visibility
…so that you do not hinder your ability to connect, build an audience, and share your messages and offer
Week 6 (Strategy):

Formulate a complete attraction marketing plan
…so that you can reliably generate new leads to your business and introduce them to your offer
Week 7 (Tactics + Implementation):

Design, create & set up the funnel assets
…using simple plug-and-play templates and formulas to ensure you get everything set up quickly and smoothly (even without a website!)
Week 8 (Tactics + Implementation):

Connect all the dots to complete & launch your funnel
…without having to become a tech wizard or spend a fortune on Facebook™ ads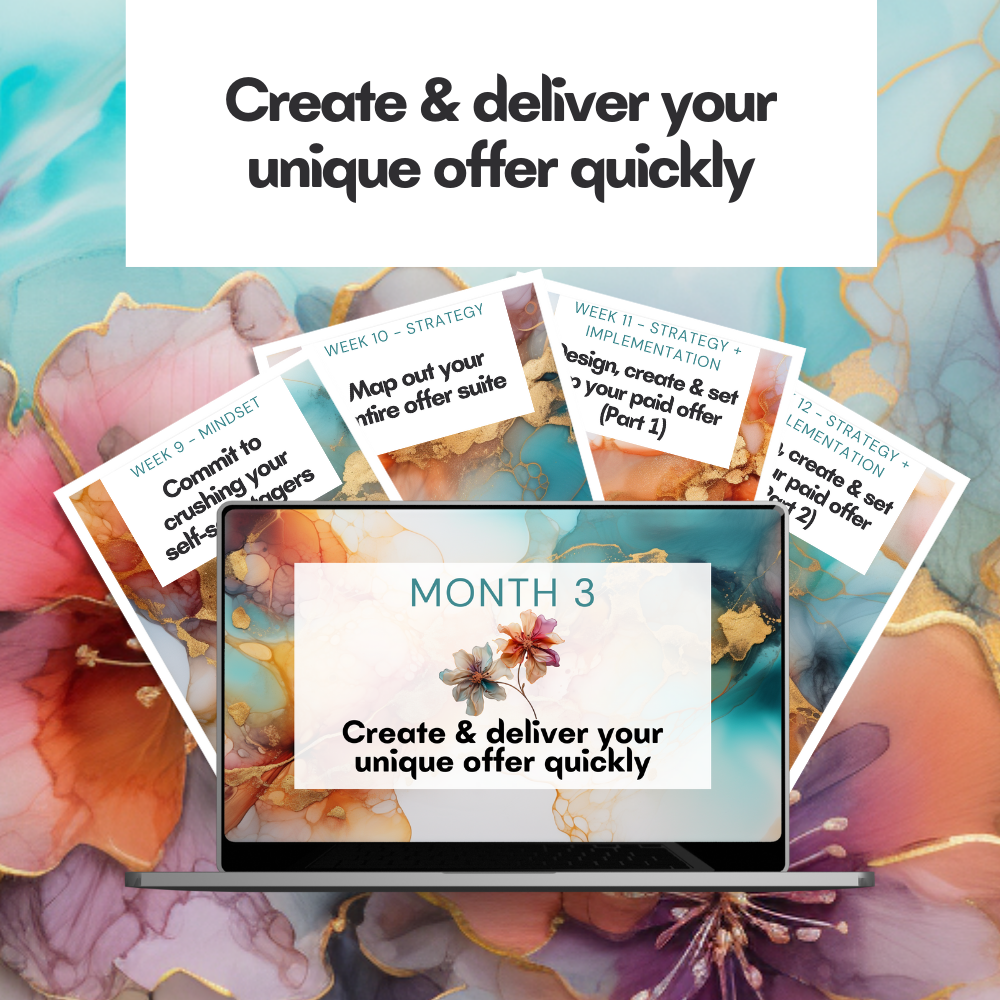 What you'll get to Make it happen:
A live weekly Lesson, broken down into clear, step-by-step actionable tasks
A weekly Q&A Session with Neta to address any challenges
A weekly Inspo & Motivation Session with Rebecca to keep you on track
Worksheets to easily walk you through each week's assignments
Fill-in-the-blanks Roadmap to creating a converting offer you will love to sell
A Sales Page to match your offer
Implementation Sessions to get your butt into action 😊 & prevent procrastination
Week 9 (Mindset):

Commit to crushing your self-sabotagers
…with the magic solution – ACTION!
Week 10 (Strategy):

Map out your entire offer suite
…by reverse engineering your client's path of your transformational promise (from Week 2)
Week 11 (Tactics + Implementation):

Design, create & set up your paid offer (Part 1)
…using my step-by-step fill-in-the-blanks process to ensure your offer is as irresistible as possible to your ideal clients
Week 12 (Tactics + Implementation):

Design, create & set up your paid offer (Part 2)
…without wasting months and years procrastinating, so that it is ready to be sold to your new leads quickly, and you are Ready for Success!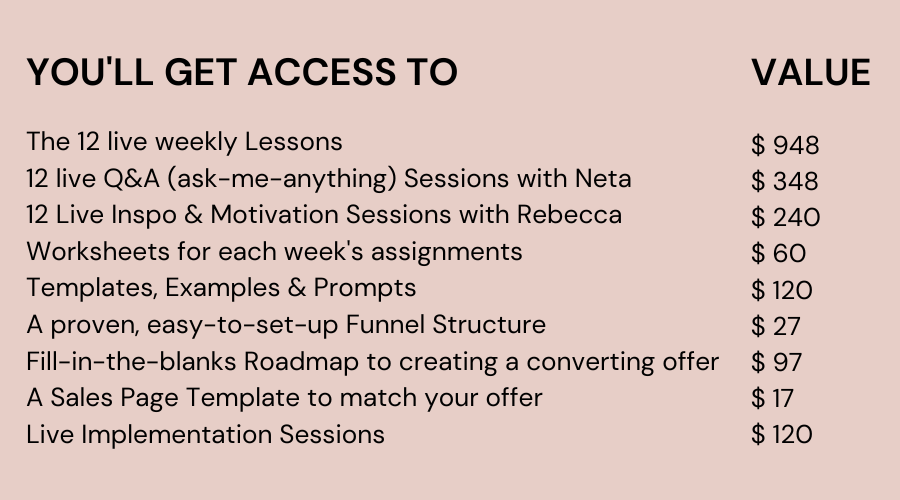 Not sure yet? There's more!
Join now and you'll also get…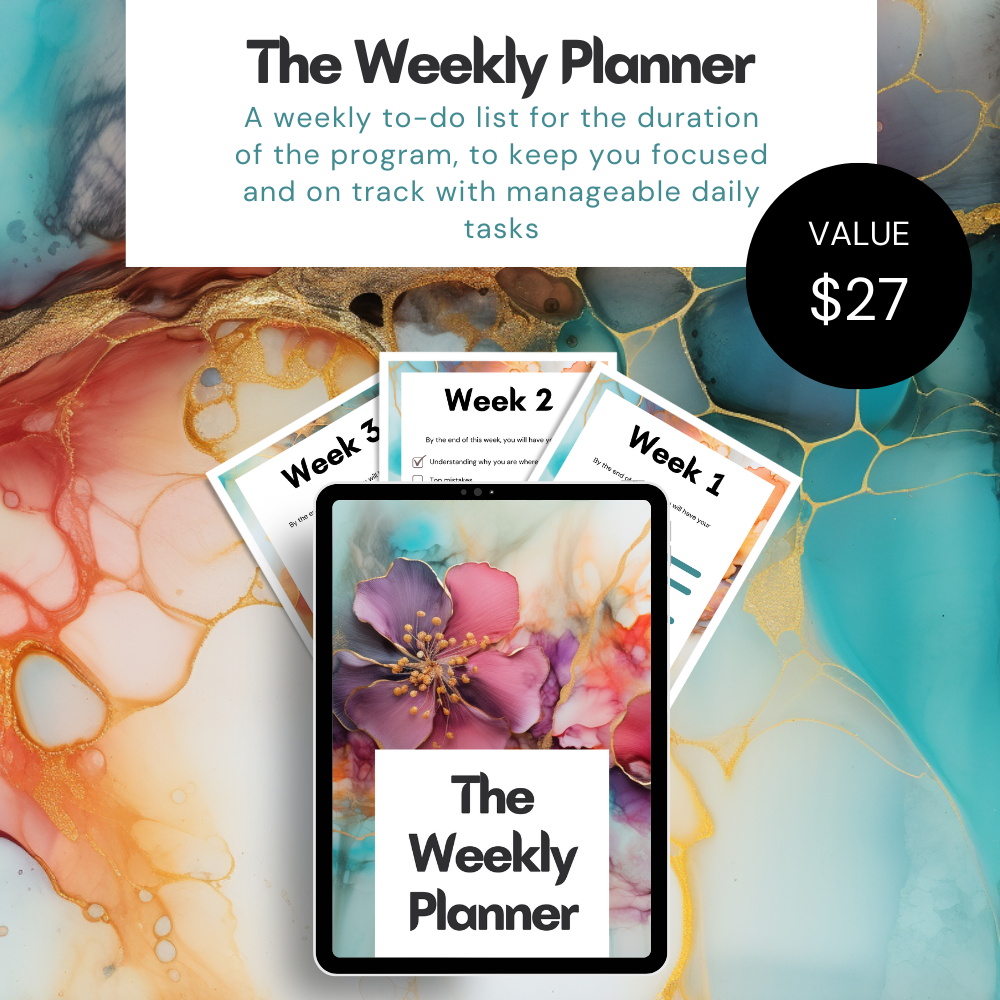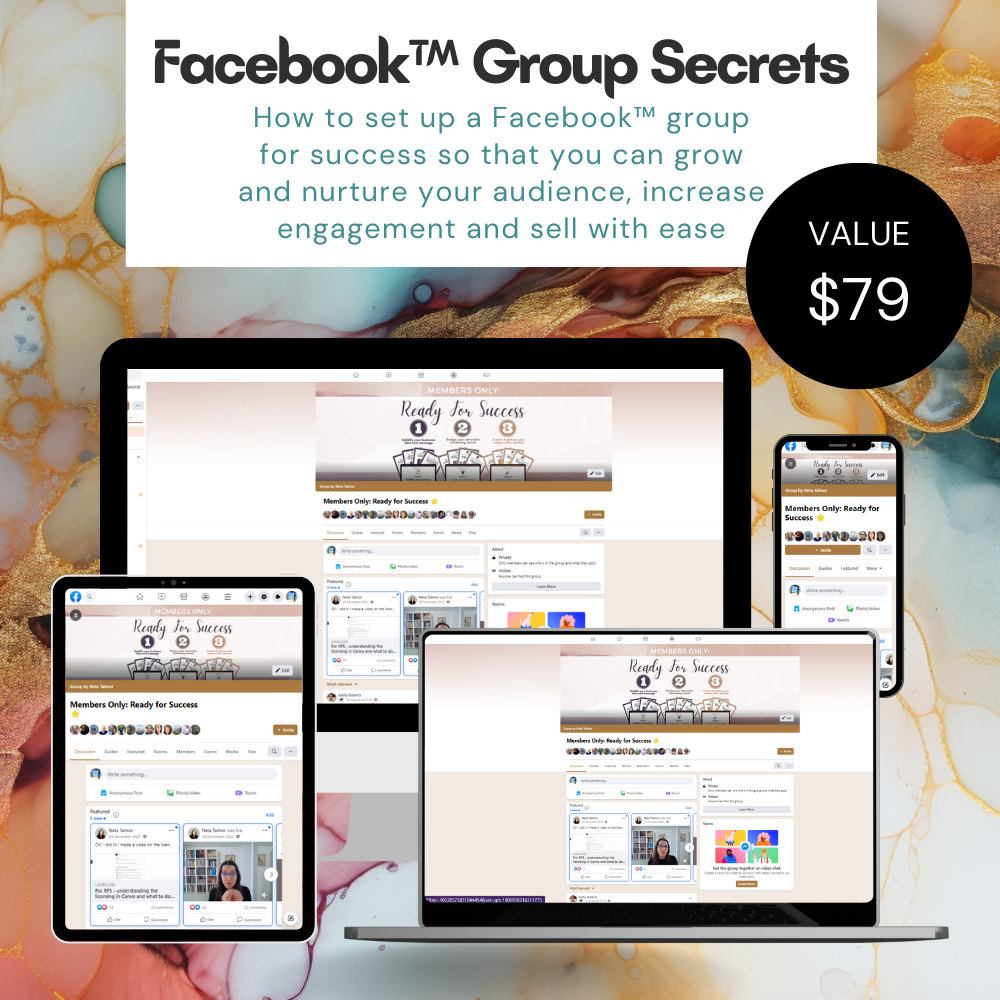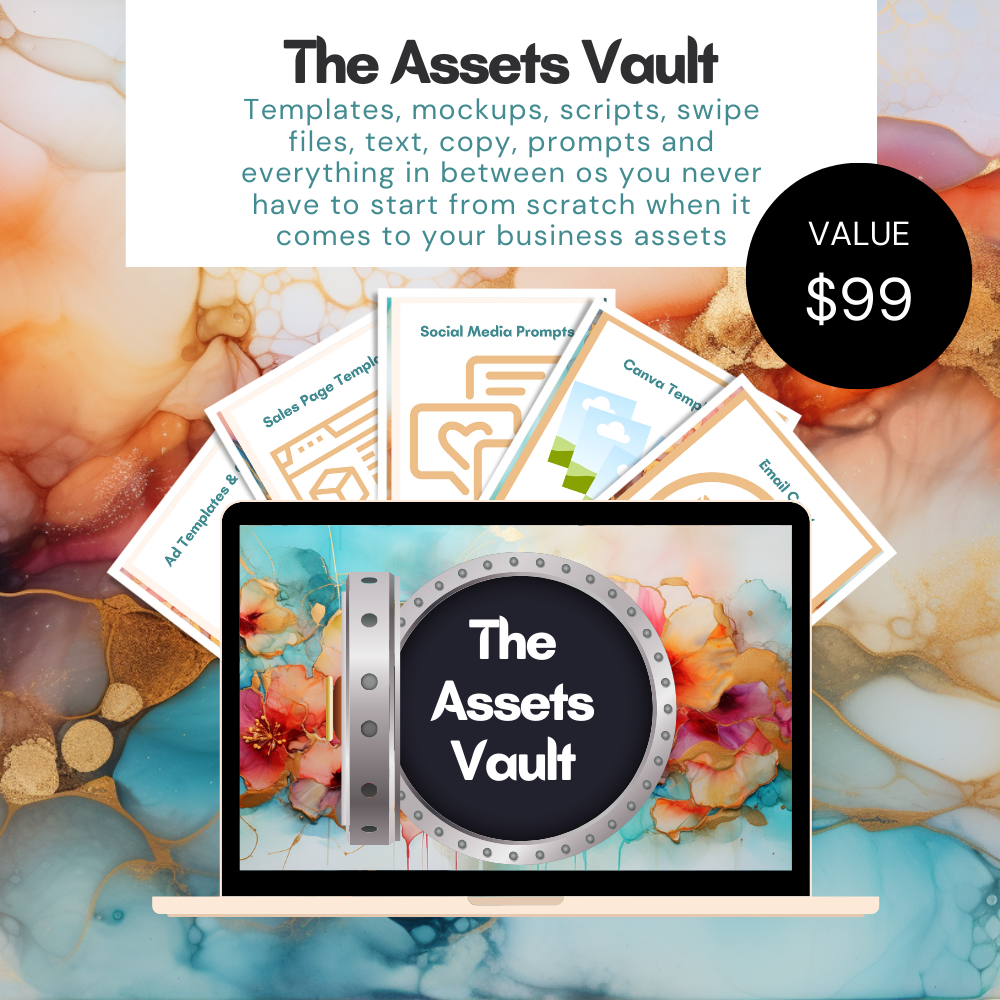 Facebook Ads Creative Kit
Inspirational Swipe Files
So that you can quickly and efficiently create the necessary assets for your business without struggle.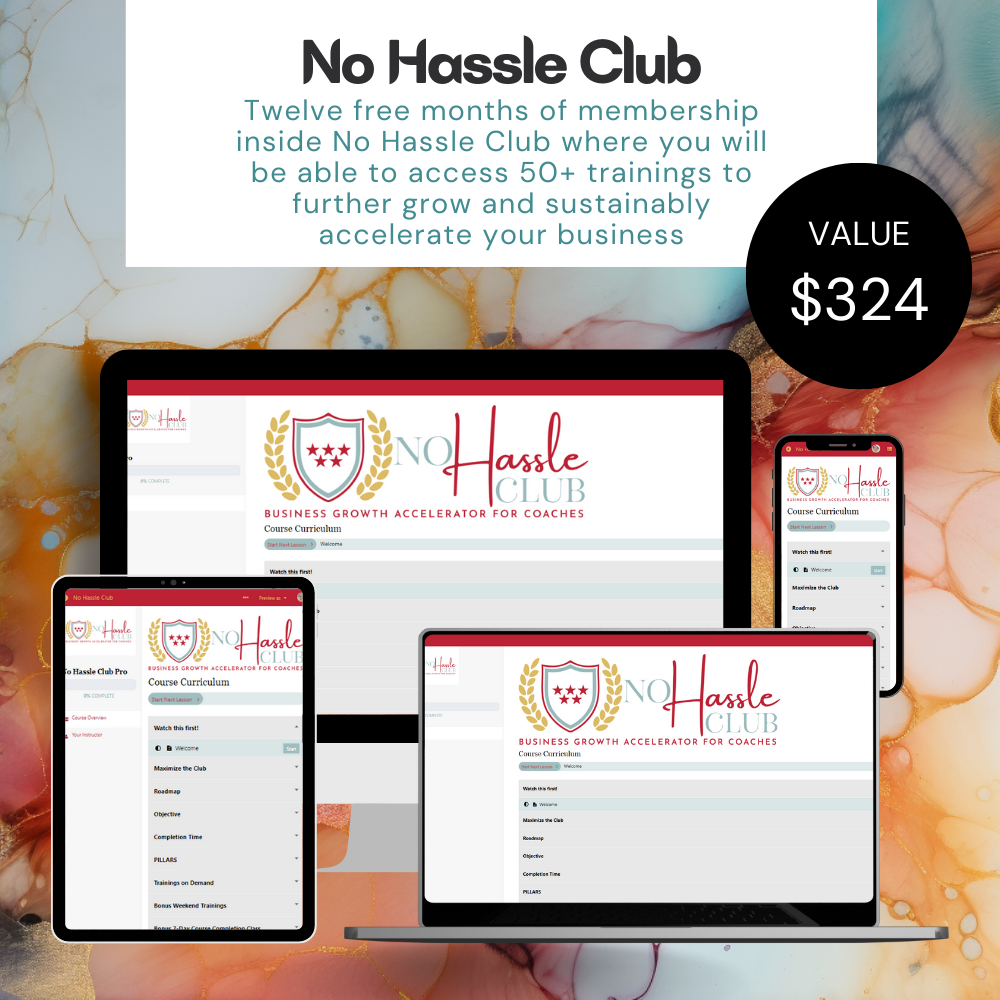 12 Months Membership in No Hassle Club
Enjoy 12 months complimentary membership in my monthly No Hassle Club upon completion of the Ready for Success program, to ensure you receive continued support and transition into a growth, acceleration and maintenance routine after the launch of your offer.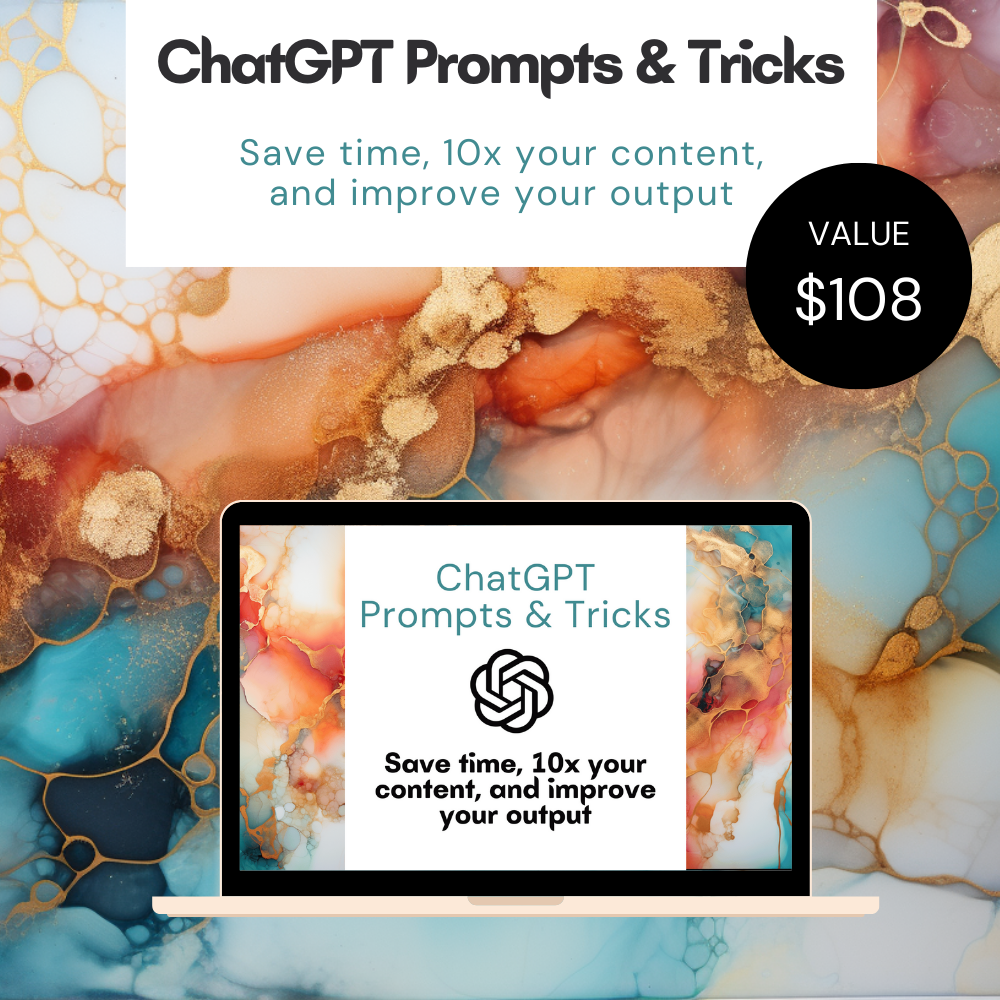 Leverage the power of ChatGPT to save time, 10x your content creation and improve your output. during our 3 months together.
This is a brand new addition to Ready for Success, and you will receive weekly ChatGPT prompts for the specific assignments and work that are scheduled for that week so you'll make faster and better progress, without the headache!
Total Value Including BONUSES: $2614
✔️ No interest
✔️ No early bird
✔️ Same price no matter how or when you pay
✔️ Cart closes Sep. 17
✔️ Program starts Sep. 18
✔️ No-question asked, money-back guarantee until Sep. 25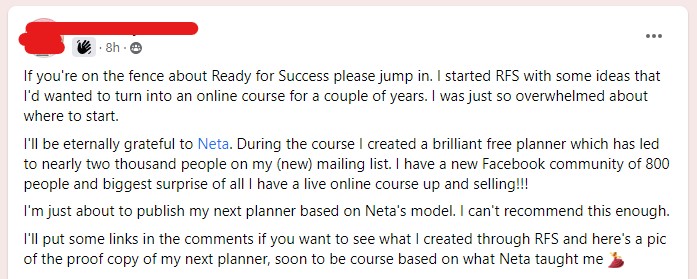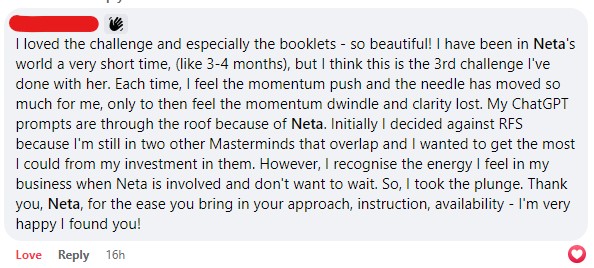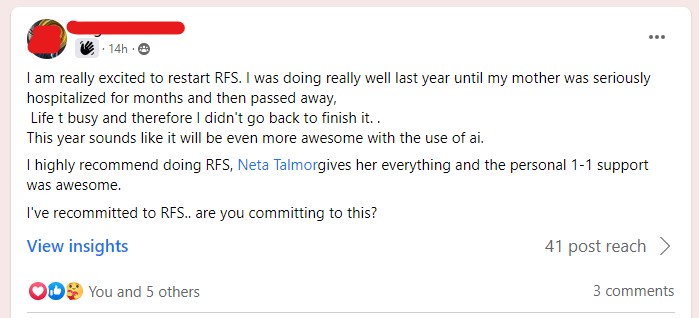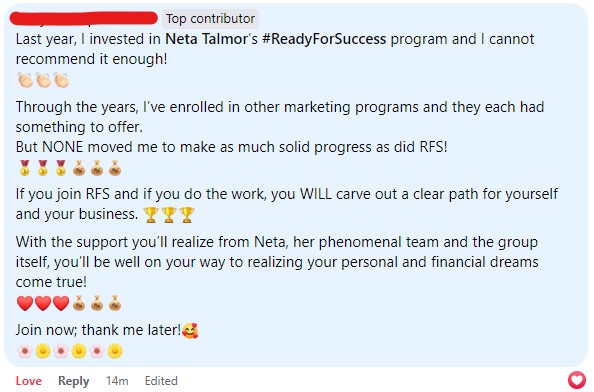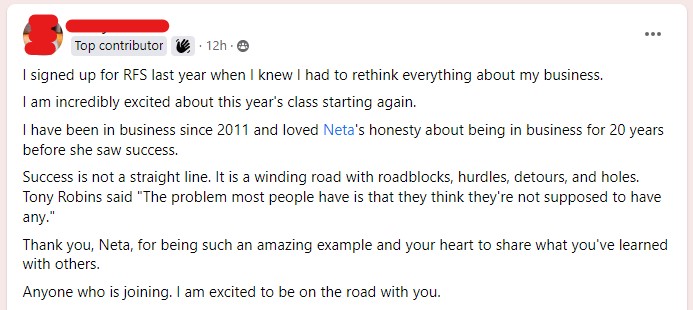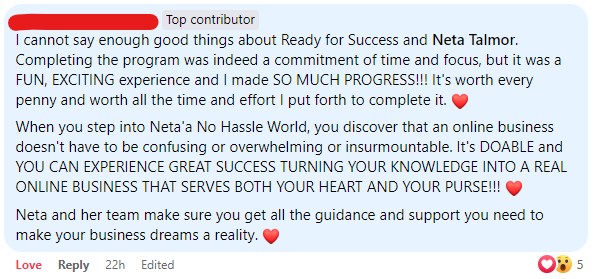 Frequently asked Questions
Q: I am a complete newbie! I'm just getting my business started. Will this still work for me?
A: Yes! Ready for Success can certainly still work for you, assuming you know what you can help people with, and you are good at it.
Q: I've been working on and in my business for a while now. Will this program work for me?
A: The Ready for Success program is especially designed for someone in your situation and it will work particularly well for you. It will help you finally figure out what has been holding you and your business back from achieving your goals, and show you what and how to implement to get you on track for success.
Q: Can I wait and join later?
A: This offer is only available until Sep. 17 and will only become available again in Sep. 2024.
Q: How much support is included?
A: There are 3 months of weekly lessons, weekly Q&As and a weekly motivation session. You'll also be invited to a closed Facebook group where you will be able to ask any question and get support from me or the team.
Q: I am very non-techie. Do I need to buy software and tools to implement everything?
A: No worries! Everything I do and teach, always assumes my students are non-techies. I have simplified every single step to make sure it is for beginners and very very budget-friendly.
Q: How is the program delivered? Is it a course? Is it live?

A: The program is delivered live. One lesson, one Q&A and one motivation session per week. You will get lifetime access to all recordings if you cannot join live.
Q: Although I've had my business for a while, I am no longer even sure exactly what I offer 😥. Will you be able to help me?
A: 100%! A big part of the Ready for Success program is to figure out your entire ideal offer suite, and then design and create your first offer.
Q: My audience and list are tiny. Can I still turn my business into a $2500/month business fast?
A: The strategies you will learn and implement quickly, will show results fast as well. We will also cover a ridiculously simple (anyone can set it up!) and very budget-friendly ($5-15/day) way to use Facebook ads to grow your list and audience even faster.
Q: When do I access everything, I am eager to start!
A: You will immediately receive a confirmation email once you sign up, but Week 1 of the program starts only on Sep. 18 so you will have to keep your pants on a bit longer! 😁 You will get more details and an invite to join our closed group, just before we kick off on the 18th.

Q: Is there a money-back guarantee?
A: Yes, there is a no-question asked, money-back guarantee until Sep. 25.
Copyright © 2016-2023 Neta Talmor @ No Hassle Website. All Rights Reserved. Privacy | Terms of Service | Contact Us
THIS SITE IS NOT A PART OF THE FACEBOOK™ WEBSITE OR FACEBOOK™ INC. ADDITIONALLY, THIS SITE IS NOT ENDORSED BY FACEBOOK™ IN ANY WAY. FACEBOOK™ IS A TRADEMARK OF FACEBOOK™, INC.